To Physician Family Media readers:    
 I am sharing a letter that I recently drafted to give to my husband. I didn't plan to share it publicly at first, but after I wrote it I wondered if it might resonate with the heart of a few other people. I made some minor edits to share here, but this is mostly the original note. I do have an idea for those of you reading it though, so meet me at the bottom of the post to hear about that, ok? Thanks.
Dearest Husband,
There are a few things that I've been wanting to tell you.
First of all, I love you. Sometimes in this busy season, I forget to stop and tell you how very glad I am that I have you.
I mean, I think we agree that we have a good marriage. We used to work on our marriage a lot more in the early days, but we hardly have time for that now. And considering the season we are in, I think we're holding it all together pretty well.
But there's no denying: The kids? They're the biggest part of US right now. And whether we're running them here and there, or talking about their grades or moods or sports or attitudes, we are pretty focused on them. All of the time.
And you know how much I work on being a better mom – it's my greatest focus in this season of life.
You see me read books and study parenting, and then you watch as I dig for those last drops of patience from the depth of my soul as I give them five more minutes or two more stories or one more chance … and you know it's all because I love them and I want so badly to get this parenting thing right. You listen as I share my dreams and concerns … and together we pray and we strategize on ways to steer this one, support that one …
And then … after all of that, you actually want to talk about things going on with ME … My interests and passions. You genuinely care about what I'm doing and writing and how I'm feeling and you make me feel like my stuff is extremely important.
But then you.
Well, I guess it's occurring to me lately that there's not much focus on you at all. In fact, I don't get the feeling you even want more focus. You're a doctor for heaven's sake! That's something I would have dreamed would be so fascinating before I met you. You have such interesting days and so many things on your mind to talk about … You'd think I'd ask you about it all, but the truth is this: I rarely do. And when I do, I'm pretty content with your short and sweet answers (I'm feeling so selfish as I write this!).
Yep … it's all about the kids, and after that? I take what's left. 
And at the end of the day, YOU … often get the worst of me. You get my worn-out, unfiltered self. You get the leftover, help-yourself, I'm tired, it's been a long day — me.
You get the me that already gave the best of myself to the kids all day.
So what I really want to say is … Thank you. Thank you for knowing my heart even through all of that.
Thank you for not fighting back when I say mean things to you because it's after 10 p.m. and I'm exhausted. And then thank you that five minutes after I say mean things, you're still willing to laugh at Jimmy Fallon or chit chat about the news because you knew that I didn't really mean that mean stuff, I'm just a tired mom and it's after ten and you get that.
Thank you for loving me, even when I'm ugly and worn out and not at all put-together. When I take off my makeup, put on my old PJ's, and don't even notice how scary my hair looks. I just love that I can be 100 percent myself with you.
Thank you for being secure in yourself and not needing to point out how important your work is, or make me feel small in what I do.
Thank you for letting me sometimes be stressed, and not trying to fix it. For letting me stay up too late on the computer and not questioning my use of time. Thank you for accepting that sometimes I have a headache, or cramps, or gas, and you won't say a word but you just keep loving me.
For all of the times I make really lame dinners or no dinner at all, and you just accept our life and me and then grab takeout because we're in this together and I feel no expectation from you to be perfect. Thank you.
Thank you for overlooking my flaws, even when I'm quick to point out yours. None of us are perfect, but I'm pretty good at acting like I am. And you?  You're good at letting me believe it.
Thank you too, for rolling with my emotions. You get excited about the things that excite me, and you get mad when I'm mad. Now that I think about it—that's really Biblical love (Romans12:15). In fact, when we recently read 1 Corinthians 13, I realized that those love verses actually describe you (I was thinking it then, why didn't I just say it?).
Sometime over the last twenty years (can you believe April will be 20 years?!) I've become very secure in our marriage, and very comfortable with you. I love that. I am comfortable that you're an important doctor, and I get to be a doctor's wife.
But I never want to take you for granted. Not your work or your life, or our marriage.
I don't want you to get my ugly, or my mean, or my leftovers. I want to give you my pretty, my kind, my best. I want to point out your amazing qualities more than any small negatives. I actually DO want to hear about your days! I want to support you and cheer you on because honestly, I think what you do is amazing. I think you're amazing!
I want you to know that I need you every single day, and that your quiet presence in this home and in my heart …

… Is actually everything to me.  
With much love and gratitude,
Monica
Readers: Thank you for letting me share this personal note with you here. However you are feeling, maybe you can use this as a springboard and write a note from your own heart! Whether you're in a good season or a tough one, there are always some positive qualities you can focus on to encourage and show gratitude in any relationship.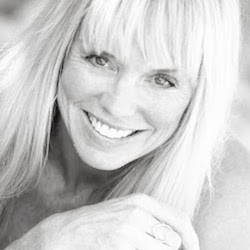 Monica Swanson lives with her very active family on two acres in the country on Oahu, Hawaii. You can read more about Monica and her discussions on parenting, healthy marriage and recipes at her blog: www.monicaswanson.com.