By Kevin Dwyer
Three years ago I hit the jackpot. I had recently moved back stateside from an extended stint living abroad in New Zealand. The social scene was pretty scant in the outer suburbs of Detroit so I did what any self-respecting millennial would do. I went online dating. After a couple months of meeting the nicest weirdos in southeastern Michigan I happened to find my now soon-to-be wife, Emily on OK Cupid.
Her profile was simple and sincere so I struck up a conversation. I passed the rigorous vetting process she used to weed out potential psychopaths, stalkers, and scientologists, and she agreed to meet up for a beer. At first she would only see me on Sunday afternoons. Naturally I assumed there were other squires keeping her entertained on Fridays and Saturdays. Being a third string date was less than ideal.
Later I learned that there weren't other dudes taking her out on the weekends, she was either working, eating, or sleeping. As it turns out she was in the midst of her third year of medical school. What a perfect time to start dating someone, I thought. Here she was, smart, sweet, beautiful, funny AND less than two years away from being a doctor. Score!
After I finished giving myself high-fives, I came to learn that being a third-year med student meant that, aside from the three to four hours we spent together each week, all of her time was spent at the hospital or studying. Not to mention, residents make around $13/hr and carry as much debt as the average Pacific island nation. Needless to say, my dreams of being the pampered husband of a wealthy family medicine resident quickly evaporated.
To say third year was tough is an understatement. Obviously it was challenging for her with the studying and whatnot, but it also put a strain on our budding romance. This is when I first learned about "free-time envy." The only time we would get to see each other was on the weekends. I started taking her out on Friday and seeing how long I could stay into Saturday. Normally I would make her breakfast, help tidy up the place, and generally keep her company. One Saturday in particular I decided to watch some racing on TV while she was reading. This is one of my favorite pastimes, and I find it extremely relaxing. So while sitting there on the couch I must have dozed off for a second. This didn't last long. She turned from her five-inch-thick text book and yelled "so are you just going to sleep!?" When dating someone in med school, no one gets a lazy afternoon.
Together we made it through third year and a year-long Master's in Public Health (med school just wasn't enough for her). Then came the interviews and Match Day. I had (and still have) the deepest admiration for her accomplishments and her ability to help people in a very special way. My priority was for her to end up in the residency program of her choice. This was no time for a needy, wishy-washy boyfriend. I tried to leave no doubt in her mind on where I stood. I was ready to go anywhere with her and she needed to focus on finding her ideal residency program. She responded in the best possible way by making me part of the process as much as she could. After every interview she did her best to rank each program. I even went to visit a few programs with her. In the meantime, I researched things like housing prices, job opportunities, and entertainment in most of the cities she visited.
Match Day was the most stressful experience ever. Her mom and dad came to town and joined us for the official opening of the envelopes. At her medical school, each med student is given the opportunity to open the envelope on stage or privately. With no desire to open hers in front of hundreds of people, Emily nervously led us to an open corner of the enormous room. She carefully opened her envelope and immediately began to cry. Overcome with emotion, tears streaming down her face, I held her in my arms. It was all I could do. I couldn't read the letter and I had no idea if they were joyful or sad tears. Finally, I caught a glimpse. She got her first choice!
The rest of fourth year was like a vacation and we even got to take a real vacation to New Zealand. Then residency started and the reality sunk in. I knew that it would be difficult. I had heard all the stories. But it was staggering how much she was at the hospital. When she finished med school she became a doctor and they were absolutely serious about that. They wasted no time putting her in with actual sick people and expected her to actually fix their problems – all of which was a shock to the system for her. On top of that there were the insanely long shifts, lasting weeks at a stretch and switching from days to nights with not nearly enough time to recover. The ICU was the worst.
This was a trying time in our relationship. She was never home and they were pulling her to the limit at work. I grabbed the first job that came along and was feeling isolated in a new city and unfulfilled at work. Between the two of us the signs of exhaustion and depression were starting to show. She needed our house to be a peaceful sanctuary away from work. Being a dude, I have a slightly lower standard of cleanliness than hers at the best of times. Compound that with feelings of boredom and resentment towards the residency program. It's no surprise some of the chores got missed. We also weren't making the most of the time we had together. We had a couple major blowups in large part due to my inability to understand and express how everything was affecting me. Once we started communicating more, things got better again. Work eased up for her a bit, and I started a business degree and found a meaningful project to work on. Learning to give each other a break was a big part of this, too.
Things for the partner of a resident may never be as difficult as it is for a resident but it's not without its own challenges. It took almost 18 months of residency to become comfortable in my new role as gourmet chef, designated shopper, occasional handyman, life coach, comforter, personal assistant, and fulltime listener. And if you're a guy significant other you will quickly learn that traditional gender roles cannot exist in this context. It took her almost as long to fully understand my greatest satisfaction comes from her success, even if it means the hospital getting more time with her than I do. Being able to appreciate that we are both trying to do our best for each other and for ourselves has gone a long way towards strengthening our relationship.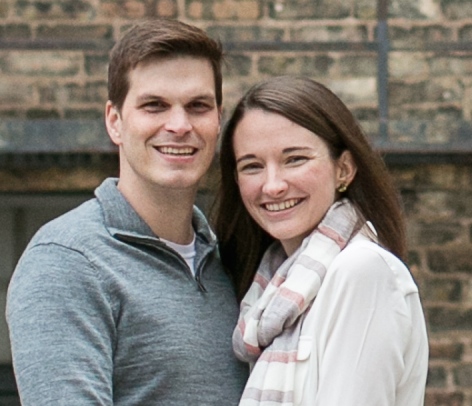 Kevin Dwyer is originally from Ann Arbor, Michigan. He graduated with a degree in mechanical engineering from the Auckland University of Technology in Auckland New Zealand. In 2011 he returned to Ann Arbor where he met his fiancée, Emily. They now live in Madison, Wisconsin. Emily is in her second year of residency. Kevin is currently employed as an engineer and is the executive director of a public health nonprofit startup called Health Connect.