By Donna Baver Rovito
Yes, I admit it. I've said that.
About 20 percent of today's medical students are from medical families. While that's still a lot of medical students following in Mom and/or Dad's footsteps, there are far fewer than there used to be. I've had conversations with MANY physician families about how they've discouraged their children from going into medicine for a wide variety of reasons: the (still) long hours, the lifestyle (or lack time for a lifestyle), the ever increasing expense of medical education, regulations, loss of physician autonomy and respect, reduced reimbursements, liability issues, etc. I know many physician parents who proudly proclaim that not a single one of their children has decided to go to medical school.
So, I will admit that I have been heard to say to our sons "You'll go to medical school over Mommy's dead body." My surgeon husband is a little less negative – he always told the boys they could do whatever made them happy, although he never pushed medicine, either.
So imagine my surprise when our oldest son Peter came home from a week-long medical mission in Honduras positively glowing with a somewhat late in his academic career epiphany – that he had decided that he wants to become a surgeon like his father!
He went on that mission mostly to do something good for others and to experience the psychological impact of lack of medical care in a Third World country as he was approaching completion of his psychology degree.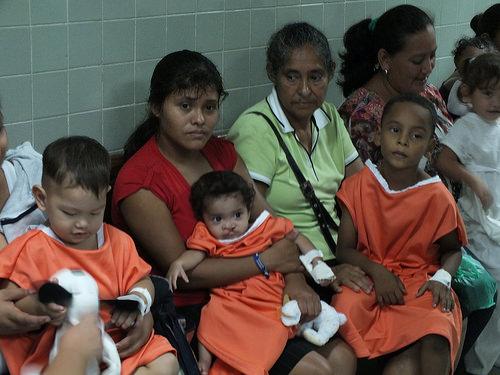 It was also an opportunity to spend a quality week with his father, who'd been going on surgical missions for several years and couldn't speak highly enough about the amazing experiences he'd had. Peter expected to move equipment and supplies, clean instruments, move patients, do paperwork or whatever else he could. He hoped that maybe he'd get a chance to see firsthand what his father does every day, just so he could appreciate it better.
What he didn't expect was that seeing what his father and other surgeons do would impact him so deeply that he would make a decision that would change everything for him. He was particularly moved by seeing the joy on a little Honduran boy's face when the mission group's plastic surgeon held up a mirror to show the child, who'd been born with only one ear, the "new" ear he had crafted out of the little boy's own cartilage. He told me that had been his "Aha!" moment. And having the opportunity to "hang hook" for his father on a few cases made an impact as well.
"… seeing the powerful impact that the dedicated team of doctors and nurses have on their patients' lives has given me a focus and direction I didn't have previously. I definitely know now that I want to go to medical school. I definitely know now that I want to be a surgeon. And I definitely know now that I'm going to go on mission trips like this when I'm a doctor." Peter wrote that paragraph for an article in the Winter 2015 issue of Physician Family (http://bluetoad.com/publication/?i=243319&p=18) about how physician family members can participate in medical missions.
Since that "Aha" moment, Peter has been dedicated to his new goal, and our family has leaped on board his "I want to go to medical school" train – especially my husband, who would never have pushed either of our sons into his profession, but who is THRILLED that one of the boys wants to become a surgeon.
It's been tremendously exciting to see the way Peter's focus has changed and how much he's matured since deciding he wants to follow in Daddy's footsteps. His undergraduate academic career hadn't been directed toward medical school (i.e., he had way too much FUN), so he was nowhere near ready. He spent an extra year at Penn State, working hard to raise his GPA and took some med school prerequisites. Then he graduated and spent several months applying to post-baccalaureate premedical programs while taking an MCAT prep course, studying to become an EMT and shadowing his father and a few other general surgeons.
The whole family was overjoyed for him when, just a week before Orientation in August, he was accepted into a premedical Master's Degree program at Drexel School of Medicine. He's working harder than he's ever worked before, loving every minute of learning medical terminology, biochemistry, medical statistics and scientific writing. (OK, that's not ENTIRELY factual. He LOVES medical terminology. Biochem…well, not so much, but still working hard.)
What's really exciting about this is experiencing HIS excitement with what he's learning and where it will (hopefully) lead him. Just the other night, while his father was checking on a patient, he spent almost an hour explaining DNA replication to me – with the same level of animation he'd previously reserved for talking about Star Wars or his favorite video games! I tried to ask one or two semi-intelligent questions to indicate that I wasn't completely lost (thank you, journalism training!) I don't think he noticed – he was just so excited to know how it works and to have a captive audience!
The BEST part of having one of our sons decide to go into medicine, though, is seeing how he interacts with his father. There's a new kind of bond between them as they talk about the anatomy of the case my husband did yesterday, or recall the patient they worked on together in Honduras, or as Peter points out a medical inaccuracy in an episode of House to his father – and he's RIGHT. Listening to my husband patiently explain a procedure or a fine point of anatomy to our son makes me understand why his surgical residents chose him as Teacher of the Year as many times as they did. But how cool is it that now he's explaining that surgical procedure to his own son?
I'm feeling a curious kind of déjà vu about all of this, having been there when my husband was studying for the MCAT and trying to get into medical school (back in the Stone Age when medical school applications were written on paper and MAILED, with stamps and all). We're hopeful that all the work Peter is doing now will lead him to his goal ("I want the white coat!") and excited that our family has embarked on this NEW medical journey together.
Oh, and what I used to say about medical school and Mommy's dead body? Yeah, let's keep that between us, OK?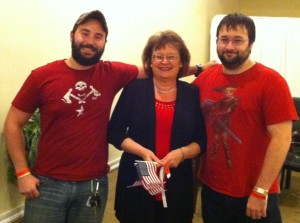 Donna Baver Rovito is the editor of Physician Family, wife to a general surgeon, and mom to two sons, Peter, a graduate premedical student at Drexel, and Tony, a junior criminal justice major at Penn State.