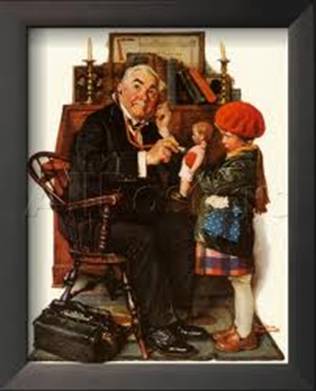 (Editor's note – Please allow us to introduce Sarah Smith Johnson, the newly appointed editor of the Physician Family weekly blog. Sarah brings a wealth of editing and writing experience to our editorial advisory board, and we're thrilled to have her with us.  A lifelong medical family member, Sarah has navigated a long training road with her cardiologist husband, so she has lots of insights to share about surviving residency and fellowship as well!  Welcome, Sarah, and we look forward to hearing from you often!  
Physician spouses or partners, male or female, at any stage of life in a medical family, are welcome to submit blog posts on a variety of topics.  You can communicate directly with Sarah at blog@physicianfamilymedia.org.  And don't forget to subscribe to the weekly Physician Family blog at www.physicianfamilymedia.org!)
PGY What?
By Sarah Smith Johnson
My mom and I were recently cooking dinner for my kids in her kitchen one evening, as I described to her my current state of being, i.e. diapers, naptime, superhero stories and sippy cups, all while my tired, disheartened husband moonlights his weekends away. Mom recently caught up with a dear friend she has known since my dad was in residency, a friendship that has held strong for nearly forty years. They had just reminisced about how the days are long being married to a physician and marveled about the old school image of waiting by the door, dinner warming, drink in hand for the doctor to arrive. Although I laughed and shook my head since nothing of the sort happens in my house, I was struck by a couple of things: the bonds that form over sharing this unique experience that is being married to medicine and the evolving, deep respect I have for my mother and so many like her after supporting my father through 12 post-undergrad years of neurosurgery training and beyond.
When I was asked to be the editor of the Physician Family blog, I was over the moon, as it is a resource and community I wish I'd found earlier. My hope is to cultivate a forum of information, support, encouragement, the occasional whine and a place where we can all share this journey because, let's face it… at one time or another, we've all felt alone navigating the ever complex logistical, financial, emotional, personal issues involved in being a part of a medical family.
I was born in August the year my father began his pediatric neurosurgery practice, a point in my husband's career that I look forward to almost daily. The plan is that after two more years of training, he will practice interventional cardiology. Barring any surprises, that's four years of med school plus three years of internal med residency plus one chief year plus three years cardiology fellowship plus one year interventional cardiology and then… voila! I'm often filling out forms and have to ask my husband: "you're PGY what?" This sense of destination is something we struggle with, perhaps at this stage more than ever, as we watch friends who didn't go the extra chief year or subspecialty year finish training, move to a new home, pay off loans, arrive, so to speak. Although we are not there yet, we have to continually remind ourselves there apparently is no "there." We are still learning together to maintain gratitude and appreciation, instead of expectation or entitlement because we know that although we've started to see the light and the bills may be a little easier to pay on the other side, our lives are happening around us.
My husband's and my story began in a Greek mythology summer school class at the University of Georgia and we joke at the carefree wild man he was then: early med school acceptance letter in hand, coasting through a summer of late nights and beer, sleeping in and minimal obligations. Despite being born and raised in a medical family, I could have never predicted what was to follow. Since then, we've filled our lives with activity and purpose: his med school and my publications career in Georgia, our wedding, job changes, a move to North Carolina, two mischievous dogs, two equally delightful and demanding children and lots and lots of tears, arguments, triumphs and joys.
As I become comfortable in my own skin as a stay-at-home mom, I am never physically alone, yet the isolation I've felt at times is crippling. While my husband has his hands physically in the groins and hearts of the citizens of North Carolina doing some of the most cerebral, stimulating work around, I'm at home molding the minds and mending the hearts of a three- and one-year-old, fixing boo boos and chucking the tennis ball on repeat for our chocolate lab in the backyard. Both jobs, in our family, are essential personnel. I've fought hard to find my role and my own voice as a medical spouse, a mother and a young woman with a lot of heart and expectations of myself and others.
To me, the role is ever-evolving, but I strive everyday to make the relationships I have meaningful, impact others in a positive way, be a supportive partner and mother, and impress upon my children that no matter what or whom they choose to be or support down the road, they do it with intention and love. I'm so proud my son and my daughter have a father role model who feels filled up at the end of the day by his job and falls asleep knowing that he made a difference in someone's life. And especially at the end of the longest days, I try to remind myself that it is this reason that I take so much pride in being part of and nurturing this medical family. I'm a little more old school than I thought!
So please, don't go it alone and join the conversation. If you have a comment, story idea, or question, speak up! We're all in this together and we'd love to hear from you.
(If you'd like to contact Sarah, email blog@physicianfamilymedia.org. )