For Mom
By Marysa Stevens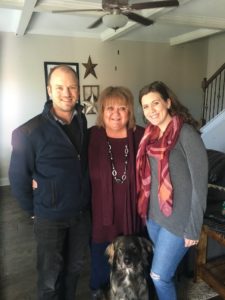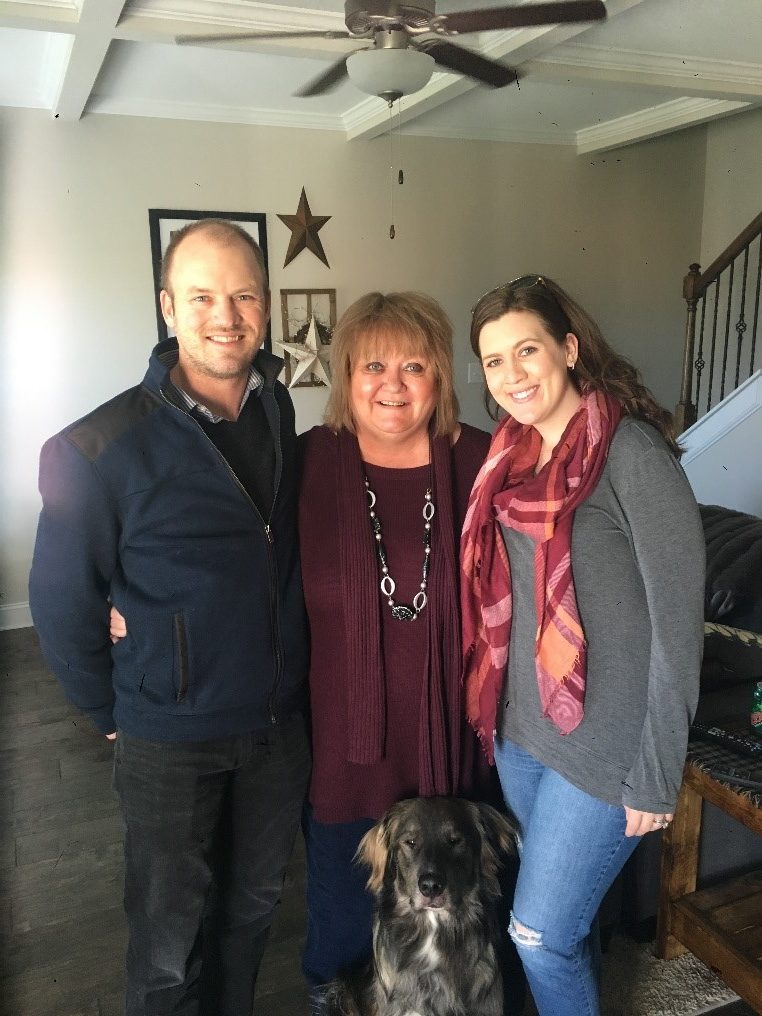 My brother Tyson, mom Lynda, me, and Tahoe, my dog.
Last fall I took a stained-glass art class. When a friend invited me, I thought I was signing up for an art class just painting glass, I didn't know that we would actually be cutting glass into shapes and soldering it together. Somewhere deep in my memory bank I resurrected a time when I did an art project as a child, painting plastic shapes that become "stained glass." I think I remember my mom buying it for me because she thought it would be fun. "I loved making stained glass years ago," I remember her saying.
It was a challenging class. Cutting glass is fun but difficult to master the proper shapes. It took three hours to create a small bee. I sent pictures to my mom and dad. The first thing they both told me was that my mom used to be really into stained art glass and she made a lot of gifts for family. Later in the day my mom and I talked on the phone and she said she realized she was about my age when she started doing that. She had such joy in her voice when she talked about how much fun she had with it. Suddenly that little bee I made became more than just a random activity, it was a symbol that connected me stronger to my mother.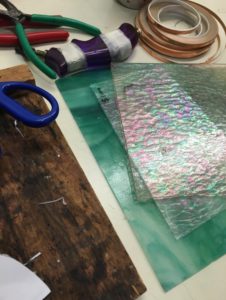 Later that night, I was completely shocked and surprised when my husband pulled up the TV to show me the full series of I Love Lucy. When my brother graduated high school and moved out, it was just mom and me for two years. We learned how to connect as I turned from bratty teen to mature young lady. We did many projects together and became actual friends. We started watching I Love Lucy when my mom picked up a season as they were being released on DVD. We couldn't get enough! I would spend nights after work and school, and weekends instead of out doing teenager stuff, watching episode after episode with mom and laughing with tears rolling down our faces. We eventually saw them all but still loved that time together. We started playing a game where one of us would pick a random number between 1 and 6 (the number of seasons) and then a number somewhere between 1 and 22 for the episode, and watch whatever random episode we picked.
When Alex pulled up the episodes, my heart swelled up. We watched one episode and he couldn't stop laughing. He had maybe seen one or two episodes in his life, certainly not like I had. He said he knew it was special between mom and so we wouldn't watch anymore without her here. Thankfully, mom granted us permission to watch.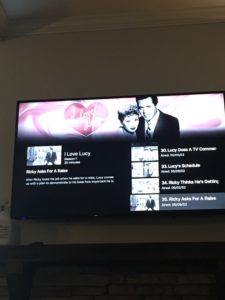 Now that I'm pregnant with my daughter, watching this show is even more special to me. It's surreal to think they originally aired before my mom was born, and here I am in the year 2017 indoctrinating my child to the timeless sounds and laughter of Lucille Ball.
My mom also passed on family recipes that I continue to use today for potlucks, holidays or just a special occasion. For a recent pot luck the nurses on Alex's floor put together, he volunteered my mom's Taco Dip. Growing up I always had to ask my mom to make it so I could take it to school or another event because it was always requested by others. When we would have friends over, we had Taco Dip. My brother makes it all the time for tailgates, pot lucks and parties. I have made it for colleagues and pot lucks as well. To be able to share this dish with my husband and his colleagues is incredibly special. It brings back all the memories of my family working together to build this seven-layer masterpiece.
I'm grateful that I have had such an influential mother who has passed down so many of her favorite things to me. So many ways I do things as an adult are influenced by her; memories embedded in my brain from when I was a child.
This was just a quick note to say, thanks, mom, for the traditions, memories and recipes. I am my mother's daughter.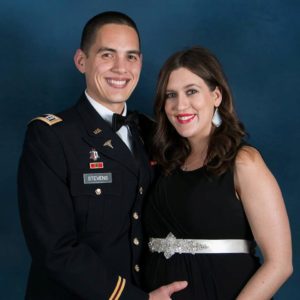 Marysa Stevens lives in Tennessee with her husband, Alex, an active duty Army physician. Marysa is the owner of Stevens Signature Marketing, a marketing and public relations consulting company. She holds a Bachelor of Arts in journalism from the University of Nevada, Reno. Marysa and Alex are expecting their first child this August.