It's Never Too Early to Start Thinking About Retirement Planning
By Donna Baver Rovito
UPDATE – the registration fee for the Physicians Financial Summit in Orlando May 1-4 highlighted in this blog has been eliminated. Alliance members and physician spouses are now invited to register for this event AT NO CHARGE! You'll still have to cover the cost of your travel and hotel, but access to 14 amazing presentations over the three day summit is now FREE! Instructions follow.
Recent data collected by AMA Insurance shows that fewer than 5% of physicians (and by extension, their families) consider themselves "very knowledgeable" about personal finances and retirement planning.
We've all heard horror stories about physician investments which have gone awry and how funds which could otherwise have been allocated for a physician family to retire comfortably have been lost in uncertain business ventures, ill-advised stock purchases, oil wells, etc.  Heck, I can TELL one of those horror stories….I thought I had a great idea for a restaurant chain and opened "the first" Simply Salads restaurant with the full support (and financial backing) of my surgeon husband during his second year of private practice. I envisioned a Simply Salads across the street from every McDonald's, serving quality, healthy food –  soups, salads and pita sandwiches. I also imagined that we'd never have to worry about whether we would have enough set aside to eventually retire – because being "salad barons" was going to make us rich, while concurrently making Americans healthier!
Well, since none of you has ever HEARD of a restaurant chain called "Simply Salads," obviously the idea didn't take off and we lost a lot of money before closing the restaurant two years later. If either of us had had any experience in the restaurant industry, or we'd bothered to do adequate research, we would have discovered that fewer than 25% of restaurants make it and maybe rethought whether this was a good investment. A lot of money that disappeared into the pockets of equipment salesmen, food vendors, contractors, etc., would be sitting in our retirement account right now.  Live and learn, right?
But taking the time to learn about investment strategies and retirement planning is difficult because physicians and their families are so very busy – even more so today with added regulations, paperwork, etc. Who has the time to learn everything we need to know to make good investment decisions – especially in the earliest years of medical training and practice? How can we ensure that when the time comes to retire, we have enough saved to not have to worry – which is the #1 personal financial concern of American physicians?  How can physician families avoid mistakes that can cost them hundreds of thousands of dollars in retirement funds?
Physician organizations have long recognized that combining a learning opportunity with a chance for physicians and their families to spend quality time together in a vacation destination is a formula that works – so we're happy to announce the first ever Physicians Financial Summit, coordinated by our good friends at the American Medical Association's professional financial affiliates, AMA Insurance and Physician Financial Partners.
This three-day summit at Disney's Grand Floridian Resort in Orlando runs from May 1-4, 2016, and provides an opportunity for physicians and their families to enjoy Disney's hospitality while participating in 14 sessions over three days with leading financial and retirement experts. Adding a few days before or after the summit can make the educational opportunity into an exciting family vacation opportunity. A special rate has been negotiated with the Grand Floridian for summit attendees, as well as discounted Disney theme park tickets.
Here's a link to a page with more information: https://www.amainsure.com/2016-Physicians-Financial-Summit.html
Physicians AND Alliance members are invited to attend this three day summit at NO CHARGE. Simply click on the link above and enter the code SUMMIT2016 to obtain your FREE registration!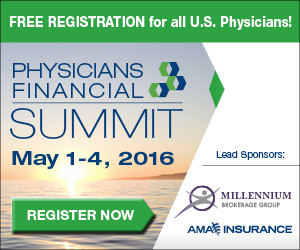 Additionally, members of the AMA Alliance can get a 25% discount on the registration fee by using the code AMAALL25 during the online registration process.
The first Physicians Financial Summit provides an outstanding opportunity for physician families to learn what they need to know to protect and utilize the assets they've worked so hard to obtain – while enjoying a Disney vacation!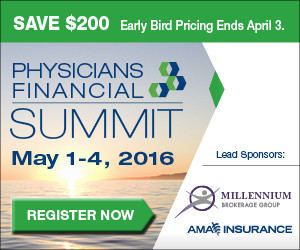 If you're interested in finding out more about the kind of information which will be shared during the summit, here are links to some recent articles which address important physician financial issues:
6 Top Financial Planning Mistakes Physicians Make
https://www.amainsure.com/research-and-insights/white-papers/6-top-financial-planning-mistakes-physicians.html
4 IRA Questions for Which You Need Answers
https://www.amainsure.com/research-and-insights/white-papers/4-ira-questions-need-answers.html
What's Your Financial Planning Stage?
https://www.amainsure.com/insurance-financial-planning-information/whats-your-financial-planning-stage.html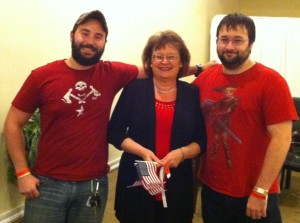 Donna Baver Rovito is the editor of Physician Family. She has been married to her surgeon husband Peter for nearly 33 years; they have two sons, Peter, a graduate premedical student at Drexel Medical School, and Tony, a Criminology major at Penn State – and she's looking forward retiring SOME DAY!