By Dawn Mast
For the record, I'm a homebody. Which is weird because I'm an extrovert so people expect me to enjoy road trips and party with the stars. But the truth of the matter is road trips stress me out and I don't know any celebrities. So it stands to reason that the Lord would bring the perfect match of a man into my life almost 24 years ago and this man would be a world traveler. Mark was born and raised in Argentina, attended high school in Paraguay and spent time in Africa performing mission work. The icing on the cake is that he's an expert packer of suitcases and mini-vans. Me? I like to throw things in Target bags and hope for the best. I'm a homebody, but I'm an optimistic packer. The nice TSA people know this.
Several months ago, we were invited to go to Jamaica (Yes! This beautiful tropical island has medical needs!) to help in a clinic where Mark had previously worked. Because our children are older we decided to take the whole family and I will say that any trepidation I had before the trip was completely unnecessary and unfounded…
(Editor's Note: To read Dawn's complete post and see photos of her physician family's mission trip, visit her personal blog here.)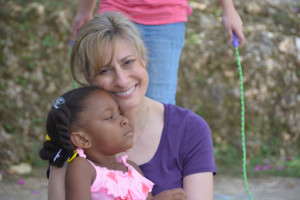 Dawn Mast was born in Alabama, moved to Virginia and attended Eastern Mennonite College, where she met and married her husband, Mark. They have been married for almost 24 years and have 4 gorgeous children. They live in the Shenandoah Valley of Virginia where Mark is in Family Practice and Dawn home schools, makes trips to Costco, drives kids to soccer, trips over their 100-pound dog, and is active in church.