By Emily Loeb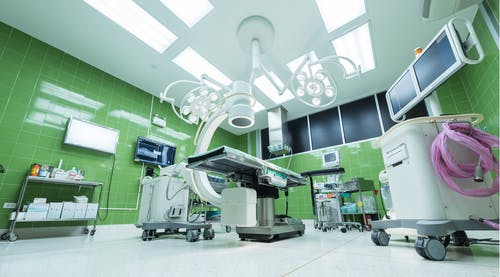 My husband often speaks about how he learned the importance of a set routine when he was a fire fighter. The process included everything from cleaning the bathrooms and dorms to having assigned roles to ensure that every piece of equipment made it back onto the fire truck and into the fire house. He took this concept of a set regimen to the operating room when he later became a surgeon to minimize procedural mistakes. He has now brought that routine into our home.
Every night as I deal with dishes and laundry, my husband meticulously disinfects our house. It began on Friday, March 13, the first day that we instigated social distancing from the world. Although my husband was on vacation, we decided it was smart to establish a nightly regimen before he went back to the hospital on a daily basis.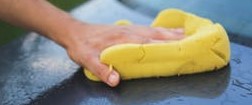 He prepared a dilute bleach mixture composed of a quart of water and three teaspoons of bleach. He found an old washcloth to use for disinfecting. Our daughter placed a piece of blue painter's tape on the lid of a plastic yogurt container with the label: "Bleach mixture: do not eat."
Every night my husband submerges the washcloth in the dilute bleach water, wrings the extra water back into the container, and begins his process. He starts at the top of the house and makes his way down to the basement, working his way around each room. His set path replicates the methodology he learned in training for fires; he keeps one hand on the wall and follows the perimeter all the way around until he reaches the door.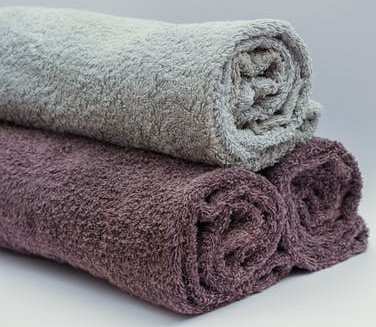 One night my son pointed out, "Dad, you're not wiping down the room in the right order." My husband explained that when you do something habitually and by rote, you set yourself up to make mistakes. Introducing a slight change periodically forces one to think more consciously about the action. Therefore, he reverses the order of cleaning each room periodically to ensure that his pattern covers everything.
Here's a list of everything that gets wiped down in our house on a daily basis. The entire process takes ten to fifteen minutes.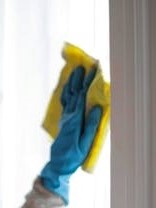 Interior and exterior doorknobs (both sides of the door)
Light switches
Toilet handles
Faucets (sinks and showers)
Drawer handles and pulls
Bedside lamp switches
Kitchen appliance handles
Kitchen appliance knobs
Kitchen drawer handles/knobs
Washing machine and dryer buttons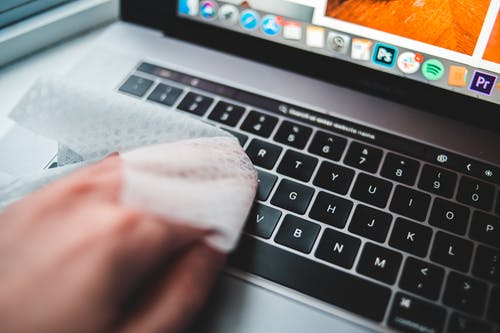 Remotes
Phones
iPads
Computers
Surfaces that get touched regularly, especially in the kitchen
Chair backs
Keys
Garage door pad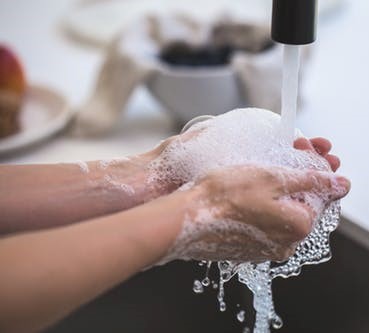 We also wash our hands whenever we come in from being outside, and we take off our "outside" clothes immediately and shower if we have been in stores or at work. We recently washed our reusable grocery bags and have started letting our mail and groceries sit for three days before opening or putting them away. For food that needs to be refrigerated, often wrapped in plastic, we wipe down with the bleach rag, wash them off, and then put the items in the fridge.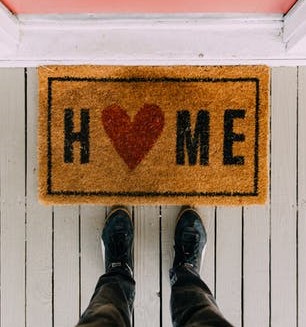 We're not positive that this significantly reduces the chance of infection in our household, but it is a ritual, and like all rituals, it creates order out of chaos, which is greatly appreciated and needed during this time of uncertainty. We don't feel particularly safe with my husband going to the hospital, and we don't feel safe going into the store, but this routine makes us feel safe in our home.
Emily Loeb is a non-profit executive director and writer. She runs the Gendler Grapevine Project, which promotes the connection between Jewish tradition, social justice and the environment, and Shattering Glass Ceilings Scholarship, which is a grassroots scholarship fund that she founded for women who are first-generation college students. Her writing has appeared in Huffington Post, The Kansas City Star Print Newspaper, KevinMD.com, and Physician Family Magazine. She lives in Pittsburgh with her husband and two children.