National Day of Solidarity to Prevent Physician Suicide – August 20, 2016
By Stephanie Waggel, MD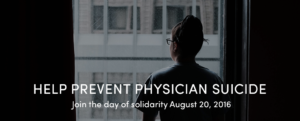 Why do we need a National Day of Solidarity to Prevent Physician Suicide? There are many reasons, sadly about 400 each year, but let me share a little of my own story to demonstrate the importance of raising awareness of the difficulties physicians face when they themselves need help.
During my intern year of residency, I had symptoms that warranted a thorough medical workup. I encountered many hurdles in balancing health and work. I found the culture of medicine is not conducive to caring for oneself. Self-care is vital to caring for others, much like oxygen mask instructions on a plane. Unfortunately, it was difficult to take time off for my appointments and it appeared that my illness was perceived as a weakness. I eventually received the tests that I needed and discovered that I had cancer. If I had such a hard time getting a workup, how was I going to get treatment?
Colleagues would ask me, "Why don't you just ask for week or a month off and come back when you are better?" This might work in some situations but it is not a plausible fix for a chronically ill person. All I needed was just a few days off a month, rarely needed more than a few hours, and some months I didn't have any appointments at all. But nothing was in place for this to work out. I thought about how difficult it must be for doctors and medical students with mental illness who need routine therapy. After some investigation, I found that very few people are able to get therapy and most were too ashamed to ask. Something must be done about this.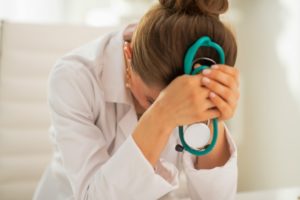 I've developed an idea for a national Physician Wellness Program (PWP) for chronically ill residents and medical students and may, once implemented, provide a vehicle for self-care for physicians in the future. This is important because of how serious the issue of physician wellness is, especially true for mental health. In this culture, there is so much pressure to be perfect, which deters us from making others aware that we need help. I knew of residents who had taken their own lives and of the high prevalence of depression in my field, but my research also revealed just how much this topic has been covered up. I discovered Dr. Pamela Wible's work and was astounded by the gravity of this problem.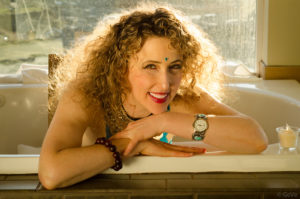 Dr. Pamela Wible
About four hundred doctors take their lives every year and our profession has one of the highest suicide rates of any. Why was I not aware of this? It became clear to me that if people do not even realize a problem exists, it will be difficult to widely implement a solution to that problem.
This is one of the many reasons I am so passionate about the National Day of Solidarity to Prevent Physician Suicide, which takes place in 11 cities this Saturday, August 20, 2016. (Well, 10 cities – the observance in Middletown, NY takes place on Monday, August 22.)
Countless friends and even other physicians have contacted me to let me know that they had no idea this was an issue. Unfortunately, the media can portray physicians in an unflattering or unrealistic light, making it hard for the general population to identify with us. I want members of every community to get to know us and know we have mental and physical ailments just like any other human being. If they feel those in their profession aren't getting the care they need, I would encourage them to speak up as well.
I have been personally involved with the event in Washington, DC and will attend it, along with Dr. Wible, filmmaker Robyn Symon, and five other speakers who will be in Washington, DC for this event on August 20, 2016 at 6:30 pm at the Dupont Circle Fountain.
At these events, we will remember those who have taken their lives and attempt to change the culture of medicine to improve the care of our physicians, ultimately helping them to better care for their patients.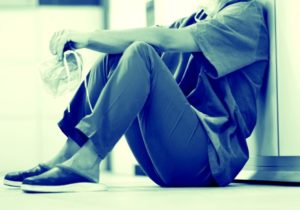 Here are the 11 cities in which Day of Solidarity events will take place, along with the event locations and links to the Facebook pages for those events.  More information is available on those local pages. All events begin at 6:30 p.m., August 20, with the exception of the event in Middletown, NY, which takes place on Monday, August 22.
The events are open to all – physicians, physician family members, colleagues, friends, etc. Please support this important recognition of a serious problem facing the medical profession and please share this information widely.
National Day of Solidarity Locations and Links: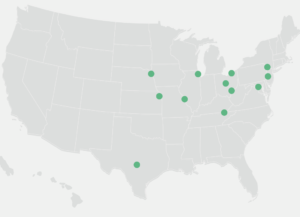 ATHENS, OHIO
Outside of Irvine (Rainsite – Inside Irvine), OU-HCOM, Athens, OH
https://www.facebook.com/events/1204572679561111
AUSTIN, TEXAS
South Lawn of the Capital Building, Austin, TX
https://www.facebook.com/events/303237863348301/?notif_t=plan_user_associated&notif_id=1468373905589948
CHICAGO, ILLINOIS
Lake Shore Park, 808 N Lake Shore Dr, Chicago, Illinois 60611
https://www.facebook.com/events/1620407154937374/
CLEVELAND, OHIO
Ohio University Heritage College of Osteopathic Medicine, 4180 Warrensville Center Rd, Warrensville Heights, OH 44122
https://www.facebook.com/events/545706428946872/
DUBLIN, OHIO
OU Heritage College of Osteopathic Medicine-Dublin, 6775 Bobcat Way, Dublin, OH 43016
https://www.facebook.com/events/526721834192583/
HARROGATE, TENNESSEE
LMU-DCOM Campus, Harrogate, TN
https://www.facebook.com/events/229245287473950/
KANSAS CITY, MISSOURI
Kansas City University of Medicine and Biosciences – Academic Center (AC-100) – 1750 Independence Ave, Kansas City, MO 64106
https://www.facebook.com/events/1066037936795512/
MIDDLETOWN, NEW YORK
(This event will take place on MONDAY, AUGUST 22 at 4 p.m.)
Touro College of Osteopathic Medicine, 60 Prospect Avenue, Middletown NY 10940 (Atrium and BLDG Main Entrance)
https://www.facebook.com/events/299774513700647/
PHILADELPHIA, PENNSYLVANIA
Philadelphia County Medical Society, 2100 Spring Garden, Philadelphia, PA 19130
https://www.facebook.com/events/1225616797457134/
ST. LOUIS, MISSOURI
Cortex 4320 Forest Park Avenue, St. Louis, MO 63108
https://www.facebook.com/events/264136153963734/
WASHINGTON, DC
Dupont Circle Fountain, 1900 P St NW, Washington, District of Columbia 20036
https://www.facebook.com/events/1086409751433628/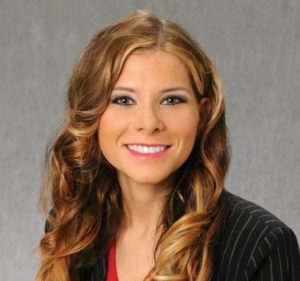 Stephanie Waggel is a doctor and author who is passionate about improving medical care for all. She is working on a wellness program for physicians so that they can provide better care to their patients. She has been to over 35 countries and worked in healthcare in Japan, Australia, The United Kingdom, and Cuba. She has taken the best parts of each back home to the US. Stephanie has worked with the Coast Guard for four years alongside flight surgeons and astronauts, including Neil Armstrong and plans to open a practice focusing on women and adolescent medicine and mental health. To find out more check out http://improvemedicalculture.com/