Resilience is the Key
By Justin Breen
Resilience has been a key foundation since my wife, Sarah, and I started dating in 2004.
Our first date, Aug. 28, 2004, was the day before Sarah started medical school at Midwestern University. As our lives have grown together – on our way to marriage, our 10-year wedding anniversary on May 4, and now as parents to two amazing young sons – we have relied on our resilience to tackle tough challenges, balance our time between work and family, and get through each day with our heads held high.
Dating and marrying a doctor has immense challenges, but it has been well worth it. For the first two years of our relationship, Sarah was living in a dorm room at Midwestern University, located in Downers Grove, IL. In order for her to study in her room, I would watch television – including sports, sitcoms and other shows – without volume. Many times, I would simply make up the plots. On numerous occasions, she would wake up before the sun rose to study. Sleep was never really part of the equation.
Of course I was busy, too. At the time, I was a sports writer working in Northwest Indiana. My hours were usually around 2 p.m. to midnight or later – and many days on weekends. Sarah and I would see each other most weeks, usually with me driving up to visit her on my days off. Our "dates" were extremely quick dinners in town. Sometimes, we had a rare chance to see a movie together.
This type of lifestyle simply became normal and accepted. I knew as soon as I started dating Sarah – and our relationship became serious – that this was how it had to be. Our discussions were based around medical school and her tests, which is funny because I know basically nothing about medicine. My brain just doesn't work that way.
Sarah has always been brilliant and has had an incredible memory. That has helped her with test taking and simply being a good doctor. She remembers everything. It is amazing. That trait has been invaluable as Sarah went through residency and rotations – working many times well over 24 hours without sleep. I still don't know how she did it.
Her first full-time job was in north suburban Gurnee, and at the time we were living in Lakeview, a North Side neighborhood of Chicago. Her commute was 90-plus minutes each way – an insane amount of time. But she always succeeded.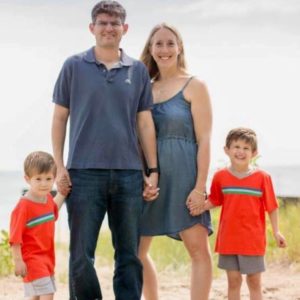 While we were in Lakeview, Sarah became pregnant with our first child, Jake, who was born Oct. 10, 2012. Again, Sarah was working in far northern Illinois, and I was working in Northwest Indiana – also making an hour-plus commute. Luckily, I was able to find a job as a Senior Editor at DNAinfo Chicago – a news site that covered the city of Chicago specifically. Sarah's drive and work ethic were inspirations for me to go through an extremely laborious application process for DNAinfo. And after several months of waiting, I was ecstatic to receive a job offer for my dream job – covering the city of Chicago.
I spent almost five years at DNAinfo – and during that time, Sarah gave birth to our second child, Chase, who was born June 25, 2014. We moved twice during that time – first to Edison Park in Chicago's Northwest Side, then our current home in suburban Glenview. Sarah also changed jobs to her current position as a pediatrician at Sanders Court Pediatrics, which has offices in suburban Buffalo Grove and Arlington Heights.
She is an outstanding doctor, loved by her patients – I can't tell you how many times we are out in public when her patients and their parents come up to her and tell her what a great job she is doing. It is just awesome.
I have always tried to be very supportive of Sarah's work – even though I have no concept of what she does. And she has been my biggest fan, especially since I left mainstream media to start my own public relations business – BrEpic Communications LLC. For my 40th birthday on April 10, 2017, Sarah surprised me with a three-day trip to Kohler, WI. On our drive up, I decided to create the company and name it BrEpic – Br is for Breen and "epic" is one of my favorite words. Sarah is very pragmatic and doesn't get overexcited about anything – which I value – but she was extremely excited when I decided to start this business.
I incorporated six days later – on April 16, 2017 – and it was a stressful first few months. During that time, I contacted thousands of potential leads to find my first five clients. There were a lot of sleepless nights, and there is no chance I could have done this without Sarah's guidance, patience and caring. How she has succeeded as a doctor not only was inspiration, but also motivation for me to live my own dreams as a successful business owner.
After the first few months, BrEpic really took off. I signed with Allstate over the summer of 2017, and it's been nonstop referrals and potential offers since. My clients are routinely in mainstream media outlets like Forbes, Chicago Tribune, WGN TV and countless others. It's been amazing to see my clients have success while having a life that's more flexible to see my sons more and work with businesses that agree with my stance on positive, motivational stories.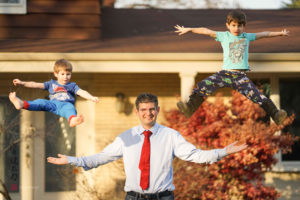 In terms of practical tips of how to live in a medical family and grow a successful business, here are a few:
Take things one day at a time. I know that's cliché, but it is important to live in the moment. Each day is going to present its challenges, and it's best to tackle them head on as opposed to planning too far ahead
Support each other. Again, there is no way I could have had this success without Sarah's help and guidance. She has been the No. 1 reason my company has blossomed. I'd like to think I've helped her carve her path as a doctor as well
Spend time with your children. Our sons are very young, and I can't stress enough how essential it has been for me to take time away from work to hang out with them. The best part about my job is I get to see my kids much more. I especially like it when I surprise them at the end of their preschool classes and they give me huge hugs.
Work hard. Nothing comes easy. If you want to be a doctor, or a business owner or anything successful, it doesn't just happen. Sarah and I are both extremely hard workers. I haven't taken a full day off in well over a year, and Sarah is on call/works weekends all the time. Our kids see this work ethic, and I can tell they already have the same drive. It's going to be amazing to watch them grow and flourish, while understanding they have to earn their accomplishments.
We are a resilient family. I am so proud of my wife for all that she has done. I love her very much, and having her in my life is a daily blessing.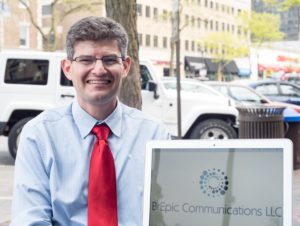 Justin lives with his wife, Sarah, and their sons, Jake and Chase, in Glenview, Ill. He is a proud University of Illinois graduate and is the school's College of Media Alumni Board Journalism Chair.
BrEpic Communications LLC is guided by Justin Breen, who has 20+ years in the media business, has won dozens of editing and writing awards, and is an author of countless viral stories. BrEpic will write clicky stories that highlight you or your business, and find the right pitch for multiple media outlets.
BrEpic clients have appeared in the New York Times, Crain's New York, Forbes Magazine, Chicago Tribune, Chicago Sun-Times, Denver Post, Milwaukee Journal Sentinel, Daily Herald, News-Gazette, South Bend Tribune, Northwest Herald, The Atlantic Magazine, 5280 Magazine, Pioneer Press, 22nd Century Media, Shaw Media, Daily Southtown, Patch, South Side Weekly, Uptown Update, Chicago Defender, Eater Chicago and DNAinfo, plus on CBS New York-TV, ABC Chicago-TV, CBS Chicago-TV, Fox Chicago-TV, WGN-TV, WCIU-TV, Telemundo, WCIA-TV, WGN-Radio, CBS Chicago-Radio, 670 The Score-Radio, WIND-AM and numerous other media outlets across the country.
For more information on BrEpic Communications LLC, visit www.BrEpicLLC.com
Photo credits (in order of appearance):
Photo of Sarah/Justin: Justin Breen
Photo of family: Justin, Sarah, Jake and Chase: Heather Booysen
Photo of kids floating in air (Jake is the big one; Chase is the little one): Kentaro Yamada
Photo with BrEpic on computer: Colin Boyle/Colin B Photography