Letter to a young doctor's girlfriend
By Megan Sharma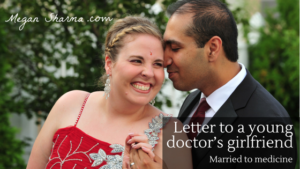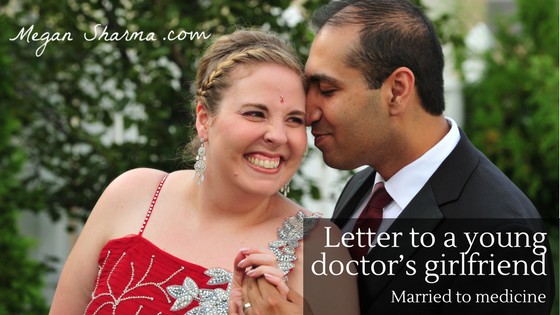 I was recently inspired by Dr. Suzanne Koven's Letter to a Young Female Physician, published in "The New England Journal of Medicine."
In her letter to herself as a young doctor, Dr. Koven describes the challenges she will face and the battle waging within her own mind: "I have wasted much time and energy in my career looking for reassurance that I was not a fraud."
She ends on a positive note: "My dear young colleague, you are not a fraud. You are a flawed and unique human being, with excellent training and an admirable sense of purpose."
Like any good Millennial, I immediately related her story to myself.
I thought about what I would have told my future self about what it's like dating, being engaged to, and being married to a doctor.
If I had powers to predict the future, would I have made different decisions? Would I have changed the course of my life?
The answer is, most emphatically, NO. I would not.  Because when you find the love of your life, you don't let him go.
Here is my personal Letter to a Young Doctor's Girlfriend: 
Dear Young Doctor's Girlfriend:
So, you've met someone? And that someone is a doctor? Kudos. Mazel. Cheers!
As your future self, I say this with the utmost respect and admiration: you have nary an idea what you're getting yourself into.
I mean, you're only 25, first of all (which is basically the new 19).
But you're falling quickly. This one is different. You can feel it in your bones.
You'll fall in love and spend your time conjoined like Siamese twins. Two peas in a pod. Eventually you will get engaged and married and have babies and buy a house together. All in good time, my dear.
For now, you're content to snuggle on the couch watching Netflix and ordering calorie-laden Thai takeout from Golden Singha down the street.
The early days and even years won't be without struggle, however.
Need I remind you that you are dating an ENT surgical resident, who has just started the first of his six-year residency training? It's a long road. And even longer when you add that one-year fellowship to the end of it.
During your boyfriend's first year of residency, he will have no control over his vacation schedule. His superiors will determine when he takes time off.
You'll still manage to squeeze in an awesome trip to Puerto Vallarta to celebrate the end of intern year, your first of many international trips together.
Most nights, you'll be lucky to see your man before 8:00 pm. When he does finally trudge through the door, he'll be buried in work and will (10 to 1) fall asleep on the couch in his scrubs. Happy hour is out of the question.
You'll grow accustomed to attending social events solo. Most of the time, your boyfriend will be on call or at the hospital whenever you make plans with your friends or family. Same goes for holidays—flip a coin.
He will wake you up every morning at 4:00 when he rises to prepare for the day. I know you're not a morning person, never mind a middle of the night person. Get used to it!
His pager will become your most despised enemy. That thing literally never shuts up. It interrupts meals, sleep, shopping trips, conversations, romantic time, and even fights. Of course, it will cause fights, as well.
Financially, let's just say that you will carry the burden for a few years. Seattle is an expensive city, and resident salaries don't exactly match up to the cost of living.
You are one of the lucky couples who won't have to grapple for years with medical school debt (THANK YOU GOD FOR THAT FULL SCHOLARSHIP!), so be grateful.
Believe it or not, once you get engaged (on your two-year anniversary while snowshoeing in Methow Valley, WA), you will plan your entire wedding around your fiancé's rotation schedule. You will do most of the planning during his research year.
PS: an 18-month engagement is way too long. A year would have been just fine.
Once you finally get through six years of residency training, you'll be jubilant, but you're nowhere near off the hook.
You've lived on the West Coast for your entire life. All your beloved friends and family are in Seattle. Say goodbye to all that.
You've got a move on the horizon. A big one.
You'll be trekking cross-country to Pittsburgh. In five short days. On your own dime. And then your husband will start his fellowship training while your newly rented apartment remains stacked to the ceiling with boxes, and you've got to get back to work, as well.
Wait! I almost forgot. Before that, you'll sell your condo in Seattle two months before the end of residency. You'll both move in with your parents while you wait it out.
And…oh, yes. You'll also be PREGNANT.
You were going to drive cross-country to Pittsburgh, but your 24/7 nausea forced you to fly and make arrangements to ship your car.
One year later, after you have your first baby together, you husband will come to the end of his surgical training—a mere 16 years of education post high school.
You'll pack those boxes once again. This time, to the Midwest, for your husband's dream job. You'll buy a beautiful home together, where your family can continue to grow.
True, life does get easier with your husband being an attending physician. But it also means he has ultimate responsibility for his patients, both ethically and legally.
You will buy expensive disability insurance, malpractice insurance, and life insurance to provide a snippet of comfort for the great, unknowable future.
Your husband will still round every weekend. He'll still work late into every evening. He'll attend more conferences, give more talks.
The life of a doctor's wife is one of understanding and sacrifice.
You and your husband are truly a team, even though things are not always equal. Don't keep score.
Whether you like it or not, you are both married to medicine. You'll never escape that.
Just remember that you chose one another. Invest in your love and keep it strong.
It's because of love that you've made it this far.
Warmest regards,
Megan
Your Future Self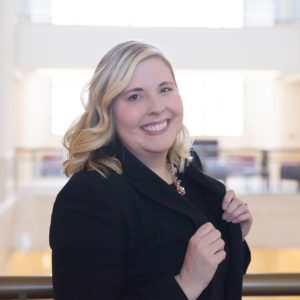 Megan Sharma is an author and writing professional originally from Seattle and recently transplanted to the Midwest. In 2015, the same year she moved cross-country (again!) and became a mother, Megan traded her 9:00 to 5:00 for calling the shots in her own writing career. Visit Megan's web site to check out her debut nonfiction book on love and modern medicine, "Memoirs of a Surgeon's Wife: I'm Throwing Your Damn Pager into the Ocean", and her blog, The Savvy Surgeon's Wife. When she isn't writing (a rare occurrence), Megan enjoys globetrotting with her ENT surgeon hubby and daughter, cooking and eating delicious food, photography, and yelling at pundits on CNN. If she had to choose one issue to dedicate her life to, it would be gender equality. Catch up with Megan on Facebook, Twitter, Pinterest and LinkedIn.