To My Beloved
By Katie Van Arendonk
This Is Us . . . I aspire to watch this new drama but have yet to join the bandwagon.
However, I digress . . . this is me and my Beloved on Match Day 2008, the moment that we found out that he matched at Johns Hopkins Hospital in Baltimore, MD. It was the moment that we discovered that we would be leaving our familiar home in the Midwest and heading to the Mid-Atlantic. We were young, ambitious, and excited for our new adventure. Tomorrow is that same day when thousands of medical students across the country will begin their own new adventure. My thoughts are with all such medical students and their significant others as they anxiously await the results of where their medical adventure will take them.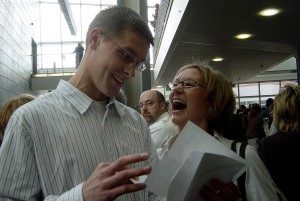 Our adventure in Charm City was adventurous indeed. Here is our departing family photo in front of the iconic dome of the original Johns Hopkins Hospital campus in southeast Baltimore. We grew up in Baltimore. We became professionals, parents, and partners as we navigated our way through my husband's surgical training.
And here we are on Pediatric Surgery Match Day 2015, the day that we found out our next destination was Vanderbilt University.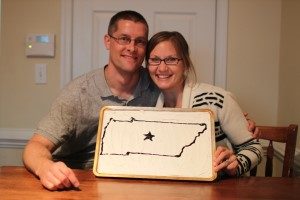 We had several additional family members to celebrate with compared to our Match Day back in 2008. And here is our latest family photo in the city that we now call home.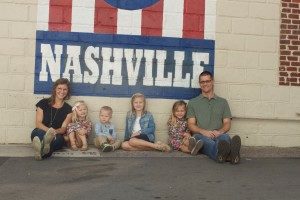 This surgical training journey is long. It is not linear. And it is hard. Demanding. Unrelenting. Tiring. Constant. Inflexible. Seemingly endless. BUT, by God's grace alone, we are navigating our way along this convoluted path, all-the-while striving to hold tightly to the promise that we serve a good and faithful God. There are days, weeks, and months when this is a hard promise to hang on to. The sacrifices that this journey has required have been many, and they often seem unreasonable.
However, even in the midst of this challenging training season, I have been blessed to stand by a man who is steadfast in his pursuit of fulfilling the calling that God has placed on his life. On our life. And even though this commitment has demanded much of him, of all of us, he has remained true to the person who I met during our freshman year of college.
He recently passed his general surgery oral boards, and in celebration of this milestone accomplishment along this journey, I wrote him the following letter to remind him of his strong character and to tell him that he is greatly loved . . .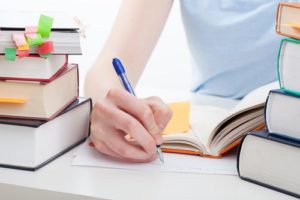 To My Beloved,
I knew from the moment that I met you that you were destined to do great things. You were ambitious and talented yet humble and soft-spoken. You were quietly confident without even the slightest hint of arrogance. You were thoughtful, kind, and compassionate. Your undergraduate premedical studies were the perfect fit for you. That's what being a doctor is all about . . . knowledge coupled with compassion.
I have walked alongside you throughout this journey of medical education and training from college, to medical school, to residency, and now into fellowship. We have woven a life together over the last sixteen years that I cherish deeply. We may have married young, but all things considered, we navigated our way from college to graduate school well. I am incredibly thankful for the time that we spent together earning our degrees, yours in medicine and mine in physical therapy. We understood one another and the trials, challenges, and demands that came with completing our respective degrees.
But then I finished and got a job, and you continued on the journey of medical education and eventually started the long and arduous voyage of surgical training. You settled on surgery knowing that you needed to be in a specialty where you were using your hands and your mind. You needed to pursue a field where you felt like you were making a distinct and profound impact on a person's life. You did not meet any of the typical characteristics attributed to surgeons, save that you were extremely intelligent and hard working. And to this day I cannot imagine you in any other specialty.
You matched at the top-ranked surgical residency program in the country. You were their "diamond in the rough" from that fly-over state in the middle of the country who graduated from a religious liberal arts college that no one had heard of. You were the hard-working, quiet, and talented intern from Iowa. (And one of the very few interns who was married.) We left our home state in the Heartland and relocated to Charm City, an urban setting that was anything but the charming environment in which we both grew up in rural Iowa. But nonetheless, we thrived. Together.
Until we didn't. The demands that were placed on you as a surgical resident and me as your partner were intense. It often seemed, and still does seem, unrelenting. Even though there were rotations that were "easy," we both adjusted our definition of "easy" so much so that having a "golden weekend" (i.e., Saturday and Sunday off) every three months seemed glorious. I watched you sacrifice nearly all of the activities that you enjoyed prior to residency . . . basketball, road biking, reading, spontaneous plans with friends, visiting family, hosting family. . . heck, there was and still is barely time to watch Sports Center. You became the person in the room who fell asleep the second that you sat down. Regardless of where you were, who you were with, or what you were doing . . . at home, in public, in the car, at church, it didn't matter. If you had a moment where you weren't being paged, called, texted, or pimped, you were sleeping.
Except for when you weren't sleeping. Since you never slept. On paper you worked 80 hours/week averaged over a four week time period. But those were and are just numbers. And those logged hours have never included the time spent pouring over bookshelves full of medical and surgical textbooks, writing, re-writing, and editing papers for publication, reviewing journal articles, writing book chapters, preparing presentations (where you knew that regardless of your role in the case being presented you would take the heat for any mistakes, missteps, or miscalculations that occurred.) Not to mention that each night not spent in the hospital requires "sign out" to one of your counterparts who is in the trenches with you. "Running the list" with your co-residents to ensure all pertinent patient information is communicated for the purposes of continuity of care. And this time-consuming task, along with all other actions taken on the patient floors or in the operating room, has to align with the likes, dislikes, quirks, idiosyncrasies, and expectations of whichever attending is running the service at that time. The demands were and continue to be never ceasing.
The hospital quickly became the place where you spent the majority of your waking hours. The patient floors and the operating room were the places where you were continually learning, growing, and mastering the skill and art of being a surgeon. But they were simultaneously the place where you were slowly being taken apart. The hospital was the place where your intelligence was questioned because you were soft-spoken. It was the place where people with less training and limited medical knowledge compared to you were free to treat you with little to no respect. The same place where you were always striving to provide the best care for each patient was the place where you were accused by those same patients and their families that your intentions were not for the good of the patient but for their harm. The hospital was the place that shifted you from being a healthy skeptic to an understandable cynic. How could it not have this effect on you?
And it's no wonder that over the years we have connected so quickly and easily with people in the same situation as us. People from all different backgrounds, cultures, countries, and belief systems instantly bond over this brutal reality of surgical training. The days were and are long. But so are the years. And you have been at this surgical training for nearly a decade! You were the grandfather of surgical residents, spare your one colleague who has one year on you. These years have not gone by quickly. They wear you down. They wear me down. They wear our marriage down. They wear our family down. These years of training have taken away things that money, status, prestige, and accomplishments can't replace. They have and continue to take away time with the people that you love. And although there are countless people who benefit from your sacrifice, your wife, son, and daughters sacrifice alongside you. We are in it together.
The demands of this profession dictate that your partner will best survive if she is independent, flexible, and resilient. And this has been my ambition throughout this journey. An ambition that I don't always execute well. As a parent you have sacrificed many "firsts" in the lives of our children, missed countless activities, and have had to rely on me to "man the homefront" in nearly every arena of life. The hours have dictated that if we want to see you, we should come and find you at the hospital. Training year after year slowly erodes your closest relationships as you learn how to compartmentalize the disease, death, and despicable acts that you see in the trauma bay, on the operating table, and in the lives of victims, patients, and colleagues.
However, my Love, take heart. I want to tell you, that despite this reality, you are the same man that I fell in love with during my freshman year of college. I see you come home to our four young children after a 30+-hour shift and fully engage them as though you had actually slept overnight. I hear you wake up every morning at 4:30 AM to start your 16-hour day . . . day after day after day after day for the past nine years. I watch you hold back tears as our kids thank God at bedtime that they actually got to see you that day. I realize that the lack of time that you spend with the ones you love the most is not a reflection of how much you value us, but a reflection of what this job requires of you and of us. And in all this I know without a shadow of a doubt that you are doing exactly what the Lord has prepared in advance for you to do. I am thankful that I get to join you on this journey.
Honey, you are still ambitious, and your patients and their families will be forever grateful that you are an eager learner who seeks the best approach to providing outstanding care for each individual patient. You are still talented, and your patients and their families will benefit from your willingness to work hard to hone and master the necessary surgical skills to optimize outcomes. You are quietly confident in a way that affords your patients the ability to trust you in a situation where they are incredibly vulnerable and depending on you for help. You are thoughtful in how you interact with your young patients and their parents and also with colleagues, staff members, and hospital employees. You are kind, even when people are not kind to you. And you are compassionate . . . the true hallmark of a good surgeon . . . of a good person.
I love you. Thank you for your willingness to sacrifice much for the sake of many. You are truly a man after God's own heart.
All my love,
Katie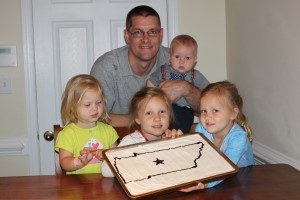 From Katie: I am a child of God, the wife of a surgeon, the mother of four little ones, a physical therapist by training, a marathon runner for sanity's sake, a health coach to inspire others toward healthy and wholehearted living, and a photographer by hobby. My husband and I were born and raised in Iowa, met and got married while attending Dordt College, and then began our long journey of training with medical school at the University of Iowa. His general surgery residency training and Ph.D training took us to Johns Hopkins for eight years, and now we are at Vanderbilt University, where he is in his first of two years of pediatric surgery fellowship. We will celebrate our 14th wedding anniversary this May, and in addition to navigating the demands of surgical training, we keep busy with our four children – Anika (7), Amira (5), Hadley (4), and Harrison (2). Together, our family loves sports, the great outdoors, new adventures, good books, great food, and desserts. We strive to keep life as simple as possible . . . Love God. Love others. Stay calm. Be kind. Choose joy.
(This blog originally appeared in Katie's own blog, Simply Katie: https://simply-katie.com/)