Resources to Help Your Physician Family Through The Match and Beyond
By Donna Baver Rovito

This week is a time for both excitement and dread among graduating medical students – Match Week, which culminates in Match Day on Friday, March 17!
After finding out where they will spend the next 3-7 years, newly matched residents will need a lot of information and support to embark upon the next step of their Journey of Medicine. Physician Family Magazine and our weekly blog have published dozens of pieces which feature information to ease medical students into the next stage, and below, we provide links to all of our previously published pieces that can be useful to "new residents." We've also included our entire Fall 2016 issue of Physician Family, which focused on Stage Two of the Journey – Residency and Fellowship.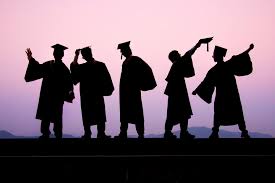 Please continue to follow Physician Family on Facebook (https://www.facebook.com/PhysicianFamilyMedia), Twitter (@PhysFamilyMedia) and on our website at www.physicianfamilymedia.org to receive regular updates on the information which is most useful to YOUR Physician Family!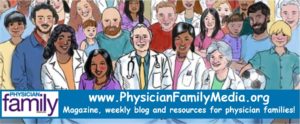 Fall 2016 Issue – The Journey of Medicine: Residency & Fellowship  www.physicianfamilymedia.org
Direct Digital Issue Link:  http://bluetoad.com/publication/?i=349574&ver=html5
PDF Link: http://cdn.coverstand.com/32550/349574/cae8292bd4260f78eaf00ec14f784565db8cfb9e.11.pdf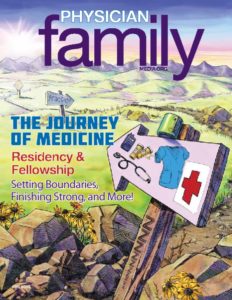 Links to Fall 2016 Individual Articles
From the Editor By Donna Baver Rovito
http://bluetoad.com/publication/?i=349574&ver=html5&p=5
Marriage During the Training Years By Julia Sotile Orlando, Rebecca Sotile Fallon, Mary O. Sotile and Wayne M. Sotile
http://bluetoad.com/publication/?i=349574&ver=html5&p=6
A Top Ten List for Surviving Residency By Tiffany Sweeney
http://bluetoad.com/publication/?i=349574&ver=html5&p=8
You Might Live With A Doctor If…
http://bluetoad.com/publication/?i=349574&ver=html5&p=9
Pregnancy and Parental Leave During Residency By Ilene Bosscher
http://bluetoad.com/publication/?i=349574&ver=html5&p=10
Making the Most of Being a Lame Duck Resident's Wife By Angelic Rodgers
http://bluetoad.com/publication/?i=349574&ver=html5&p=12
Women in Medicine — The Training Years By Donna Baver Rovito
http://bluetoad.com/publication/?i=349574&ver=html5&p=14
Living on a Resident's Yearly Salary Infographic – Association of American Medical Colleges
http://bluetoad.com/publication/?i=349574&ver=html5&p=18
You Have Questions — We Have Answers!
http://bluetoad.com/publication/?i=349574&ver=html5&p=19
To the Woman Behind the Man Behind the Mask: An Open Letter to the Wife of my Daughter's Heart Surgeon By Christina Schuetz
http://bluetoad.com/publication/?i=349574&ver=html5&p=20
Learning to Love the Scrubs By Jon Foulk
http://bluetoad.com/publication/?i=349574&ver=html5&p=22
Set Boundaries, Take Back Your Time and Stop Explaining Yourself By Starla Fitch, MD
http://bluetoad.com/publication/?i=349574&ver=html5&p=24
Why Work Locum Tenens After Residency? By Melissa Byington
http://bluetoad.com/publication/?i=349574&ver=html5&p=27
Finishing Strong? What To Do When You Hit "The Wall" By Kim Blackham
http://bluetoad.com/publication/?i=349574&ver=html5&p=28
How to Save Money Buying a Home with a Physician Loan By Tal Frank
http://bluetoad.com/publication/?i=349574&ver=html5&p=30
Food Solutions: Easy Autumn Stew By Juliette Goodwin
http://bluetoad.com/publication/?i=349574&ver=html5&p=31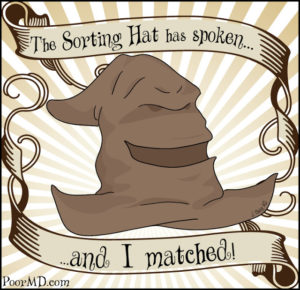 Links to previous Physician Family Magazine articles which are of special interest to new residents:
Balancing Life, Medical School, Residency and a Relationship by Kevin Dwyer
http://www.bluetoad.com/publication/?i=287407&m&id=14636&p#{"issue_id":287407,"page":20}
How to Eat Healthy on a Budget By Emily Fitzgerald and Michelle Barnett
http://bluetoad.com/publication/?i=265150&p=18
Top Five Financial Goals for Residents and Fellows By Kerri Zelenik Burton
http://bluetoad.com/publication/?i=228943&p=12
A Top Ten List for Surviving Residency By Tiffany Sweeney
http://bluetoad.com/publication/?i=211676&p=14
Significant Other Organizations, A Much Needed Resource for Medical Families By Vina Lybbert
http://bluetoad.com/publication/?i=211676&p=16

Links to Previous Blog Posts:
(6/26/14) Intern Year: It gets better By Marysa Stevens
https://physicianfamilymedia.net/http:/old.physicianfamilymedia.org/intern-year-gets-better/
(7/3/14) Next Chapter: PGY1 Neurosurgery By Briana Wessell
https://physicianfamilymedia.net/http:/old.physicianfamilymedia.org/128/
(7/30/14) Be Flexible and Avoid Resentment By Donna Baver Rovito
https://physicianfamilymedia.net/http:/old.physicianfamilymedia.org/flexible-avoid-resentment/
(8/6/14) The Art of the Medical Move By Jordyn Paradis Hagar
https://physicianfamilymedia.net/http:/old.physicianfamilymedia.org/art-medical-move/
(8/13/14) How to Live Frugally During the Training Years (and Beyond) By Laura Ditkofsky
https://physicianfamilymedia.net/http:/old.physicianfamilymedia.org/live-frugally-training-years-beyond/
(10/22/14) Starting a Family in Residency By Jasmine Almeida
https://physicianfamilymedia.net/http:/old.physicianfamilymedia.org/startingafamilyinresidency/
(10/29/14) Residency Survival: Lessons Learned By Briana Wessell
https://physicianfamilymedia.net/http:/old.physicianfamilymedia.org/residency-survival-lessons-learned/
(12/10/14) Surviving Medical Training…It's a Family Affair By Julia, Rebecca, Mary and Wayne Sotile
https://physicianfamilymedia.net/http:/old.physicianfamilymedia.org/survivingmedicaltraining/
(1/24/14) Real Estate Decisions for the Medical Family By Stephen Lloyd
https://physicianfamilymedia.net/http:/old.physicianfamilymedia.org/realestatedecisions/
(1/7/15) Budgeting During Residency By Tonya Adams
https://physicianfamilymedia.net/http:/old.physicianfamilymedia.org/budgetingduringresidency/
(3/4/15) Medical Marriage Q&A: Managing the Stress of Moving By Kim Blackham
https://physicianfamilymedia.net/http:/old.physicianfamilymedia.org/managingthestressofmoving/
(3/19/15) Our Match Day Story and Resources You Can Use By Donna Baver Rovito
https://physicianfamilymedia.net/http:/old.physicianfamilymedia.org/our-match-day-story/
(3/25/15) A Grateful Glimpse at Training By Ashley Mast
https://physicianfamilymedia.net/http:/old.physicianfamilymedia.org/agratefulglimpseattraining/
(4/15/2015) It Must Be Nice By Erica Camp
https://physicianfamilymedia.net/http:/old.physicianfamilymedia.org/it-must-be-nice/
(5-6-15) It's Good Now By Kim Blackham
https://physicianfamilymedia.net/http:/old.physicianfamilymedia.org/medical-marriage-qa-good-now/
(5-27-15) Pack All the Happy By Jasmine Almeida
https://physicianfamilymedia.net/http:/old.physicianfamilymedia.org/moving/
(7-1-15) Happy (Medical) New Year! By Tamara Reese
https://physicianfamilymedia.net/http:/old.physicianfamilymedia.org/happy-medical-new-year/
(7-8-15) What I Learned From Watching a Car Accident By Jamie Walton
https://physicianfamilymedia.net/http:/old.physicianfamilymedia.org/learned-watching-car-accident/
(7-15-15) Intern Year: We Survived and Thrived By Briana Wessell
https://physicianfamilymedia.net/http:/old.physicianfamilymedia.org/intern-year-survived-thrived/
(7-22-15) I'm Not a Single Mom….I Just Play One on TV By Mandy Silveira
https://physicianfamilymedia.net/http:/old.physicianfamilymedia.org/single-parent/
(8-12-15) No More Medical Student Loans By Lizette Blackwell
https://physicianfamilymedia.net/http:/old.physicianfamilymedia.org/nomoremedicalstudentloans/
3/2/16 Match Making By Angelic Rodgers
https://physicianfamilymedia.net/http:/old.physicianfamilymedia.org/match-making/
3/23/16 On Medical Match Day, wishing the spouses well By Moira Muldoon
https://physicianfamilymedia.net/http:/old.physicianfamilymedia.org/on-medical-match-day-wishing-the-spouses-well/
4/6/16 So You Matched. Now what? By Susanna Hindman
https://physicianfamilymedia.net/http:/old.physicianfamilymedia.org/so-you-matched-now-what/
5/12/16 Living in the Present During Training By Claire Necessary
https://physicianfamilymedia.net/http:/old.physicianfamilymedia.org/living-present-medical-training/
5/18/16 Compromise and the long haul are key to our family's future in the present By Elizabeth Stuelke
https://physicianfamilymedia.net/http:/old.physicianfamilymedia.org/compromise-long-haul-key-2/
6/22/16 The Art of the Medical Move By Jordyn Paradis Hagar
https://physicianfamilymedia.net/art-medical-move-2/
8/10/16 Be Flexible and Avoid Resentment by Donna Baver Rovito
https://physicianfamilymedia.net/be-flexible-and-avoid-resentment/