Who Heals the Healers?
New Issue of Physician Family Magazine Focuses on Stress and Burnout
By Donna Baver Rovito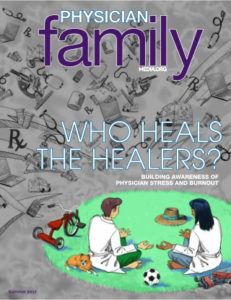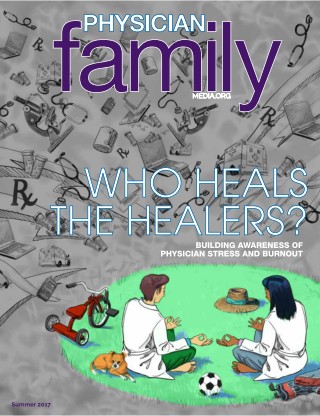 Who heals the healers?
There's an epidemic afflicting America's physicians – and the old adage "Physician, heal thyself" just won't cut it this time.
Physician stress and burnout are at an all-time high, with more than half of our nation's healers showing signs of the condition commonly known as "burnout." In its most serious form, burnout can lead to another epidemic – physician suicide. Nearly 400 physicians are lost this way each year, a truly heartbreaking statistic that impacts not only the physicians and their families, but our nation's health.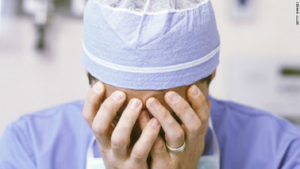 Some people who know what they're talking about say "burnout" isn't even an appropriate term – because it implies some level of personal responsibility for the physician's own condition. And victim-blaming isn't only insensitive, it's irresponsible. But since we don't know what else to call it, and because virtually every other medical organization identifies this epidemic as "burnout," it's the term we'll use for now.
When any member of a physician family suffers from stress or burnout, the whole family is affected. That's why the AMA Alliance appointed a task force to help identify those suffering from burnout and to provide resources, including some amazing materials developed by the AMA. You can read about that task force and many other important articles focused on physician stress and burnout in the Summer 2017 issue of Physician Family, available at www.physicianfamilymedia.org.
The digital version of Physician Family is provided to all physician families at no cost.
The previous Spring 2017 issue of Physician Family featured a Burnout Quiz which was developed by the burnout task force and is available online at www.amaalliance.org/physician-burnout. Let the physician in your family take the quiz – or take it on his or her behalf.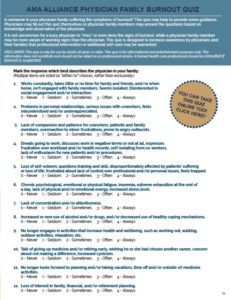 Sometimes, the physician will deny or not recognize the symptoms of burnout, but a family member will. Awareness is key – and that's where physician family members can make a difference and why we've devoted this whole issue to stress and burnout.
In the brand new Summer 2017 issue you'll find articles to help you recognize red flags at all stages of the Journey of Medicine. Learn how to do a "Stress Scan," how burnout affects relationships and how wearing so many hats makes women physicians even more susceptible to burnout than their male counterparts. Read about what the AMA is doing to alleviate physician dissatisfaction and burnout, how to help your physician avoid burnout during the training years and 10 strategies for saving our medical students. Find tips on how to address physician family wellness, how a change of pace or scenery can help and how one physician overcame his own burnout by writing a mystery novel.
Additionally, our readers share some of their own burnout strategies, there's a marvelous piece about N'Awlins, a recipe for mouthwatering blueberry buckle, and our humor page is guaranteed to provide some chuckles. Physician burnout is no laughing matter – yet maintaining a sense of humor can help.
Even more important, though, is awareness. Once you've read this issue of Physician Family, you'll know what to look for, and where to seek resources or help if you think the physician you love is suffering from burnout.
Rest assured that the AMA Alliance will keep a strong focus on this issue. Even though its burnout materials are available free to the general public, membership in this powerful support network of physician families is more important now than ever. You can learn more at www.amaalliance.org – and as a special bonus, members receive hard copies of Physician Family!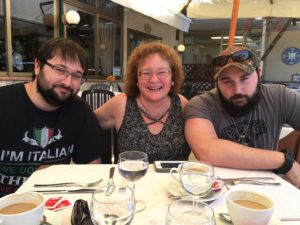 Donna Baver Rovito is editor of Physician Family Media, a longtime editor and writer, mom of two sons, Peter and Tony, 34 year spouse of general surgeon Peter F. Rovito, MD, and self professed "science fiction geek" whose fondest desire is to step through the Stargate just once. (Well, twice….)