Does Match Day dictate your destiny? A surgeon's wife weighs in
By Megan Sharma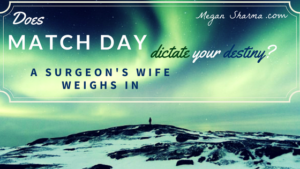 Ladies and gentlemen, boys and girls! The momentous Match Day fast approaches!
But you already knew that, right? Your calendar is marked.
Perhaps your hopes and dreams are already staked on a particular program in a favorite city. Or, maybe, you'll be satisfied to have matched to any program.
Whatever your feelings on the subject, I would encourage you to keep an open mind.
Match Day, while certainly significant for physicians on the cusp of their residency or fellowship training, does not ultimately control your destiny. And it can open doors you never even imagined, if you let it.
If it weren't for the Match (well, that and good old Match.com), I wouldn't have met my husband, Arun.
Arun completed medical school at the University of Pittsburgh. He interviewed at several residency programs from sea to shining sea, prioritizing those programs with a strong academic medicine tradition and research capabilities.
Ultimately, Arun learned that he would be furthering his medical training in Otolaryngology in Seattle at the University of Washington, living the real "Grey's Anatomy," so to speak.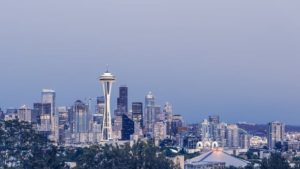 Arun and I met just a few months into his residency in Seattle, after flirting online. When he asked me out for a second date less than 24 hours after our first date, I knew that our relationship would be different and special. I am happy to say that I found the love of my life through chance and just a dash of good luck.
The Match also played a role in the next stage of our life together. Since Arun sought to pursue academic medicine, he applied for fellowship positions at the conclusion of his residency.
He only applied to three programs (which is, in itself, a bit risky), none of which were in the Pacific Northwest, where I had called home for more than 16 years. I accompanied Arun on the interviews to get a flavor for each city.
One city was prohibitively expensive and far too crowded. Another was lovely but had an underlying crime problem. The last was familiar to Arun. It was Pittsburgh, where he had spent five years in medical school.
Ultimately, the Match took us to a one-year fellowship in Pittsburgh.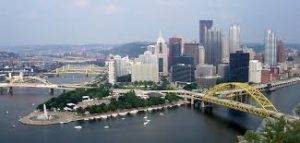 For me, the change was dramatic. I had lived on the West Coast my entire life. And here I was, deciphering Pittsburgh-ese slang, trying to understand what place French fries had on green salad, and more than 2,000 miles from my closest friends and family.
Despite my occasional reluctance to have made the move, Pittsburgh was good for us.
Arun got phenomenal training that truly prepared him for life as an attending. We had an apartment twice the size of our Seattle condo for less than our previous monthly mortgage. And we had our first child, Jasmine, in the middle of a frigid Pittsburgh winter.
Pittsburgh eased us into a different kind of life. We were now a complete family and working toward the next chapter.
Post fellowship, Arun accepted a job in Springfield, Illinois. I never thought I would live in the Midwest. The middle of the country didn't hold much mystique for me.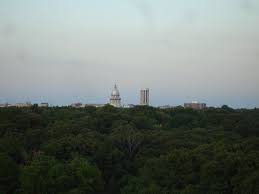 But, in all honesty, we are grateful to be living here! We love our house, our neighbors, and the small-town feel. Yes, we miss the sushi and street festivals and hustle and bustle of the big city. We travel frequently to get our city fix.
I'm of the opinion that everything happens for a reason and that we can choose to make the most of what life deals us – or not.
Yes, the Match is one of the key deciding factors in the trajectory of a physician's career. How you choose to react and live your life after the Match?
Well, that is up to you.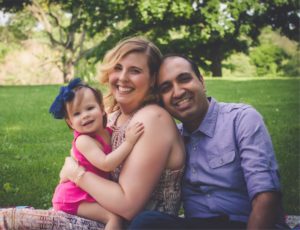 Megan Sharma is an author and writing professional originally from Seattle and recently transplanted to the Midwest. In 2015, the same year she moved cross-country (again!) and became a mother, Megan traded her 9:00 to 5:00 for calling the shots in her own writing career. Visit Megan's web site to check out her debut nonfiction book on love and modern medicine, "Memoirs of a Surgeon's Wife: I'm Throwing Your Damn Pager into the Ocean", and her blog, The Savvy Surgeon's Wife. When she isn't writing (a rare occurrence), Megan enjoys globetrotting with her ENT surgeon hubby and daughter, cooking and eating delicious food, photography, and yelling at pundits on CNN. If she had to choose one issue to dedicate her life to, it would be gender equality. Catch up with Megan on Facebook, Twitter, Pinterest and LinkedIn.