Now that the celebration of Match Day is over, we wanted to share some survival tips from Hannah Pye as you start contemplating the next phase in your journey. We especially love Tip #4 and want to remind everyone that the AMA Alliance is a great place to start when looking for a supportive community! Find out about membership options and benefits–including print copies of Physician Family!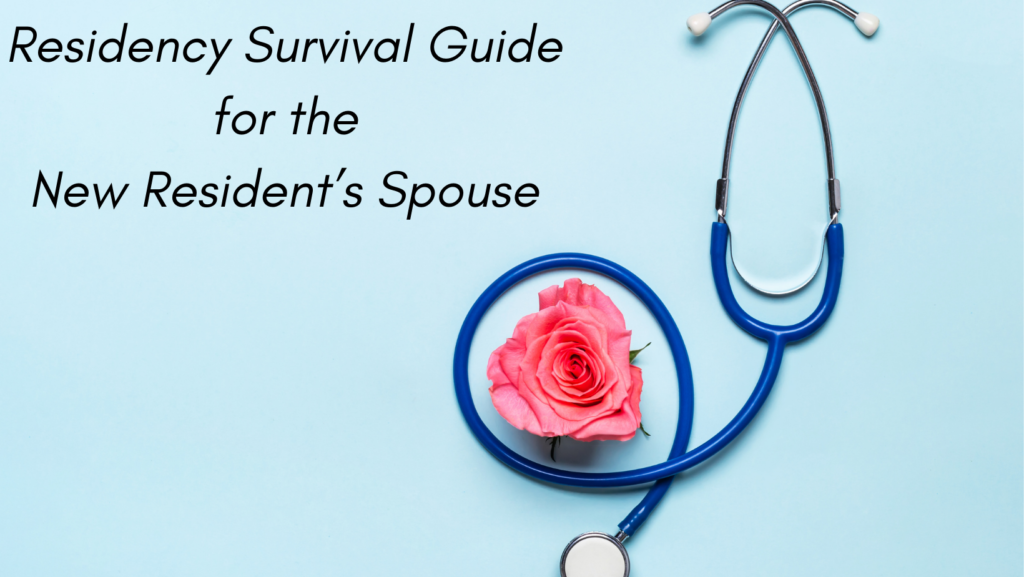 As much as you hear about residency from people who have experienced it, there's nothing that can truly prepare you for the ins and outs of being married to a resident. Long days, weekend shifts, and overnight rotations are all part of the package. Throw in the extra program expectations like research, journal club, wellness events, and studying at home to keep up, and it feels like you will never see your spouse or partner again. Take heart! You will see them again. It will get better in three to seven years, when they are done with training. But what do we do to survive in the meantime?
I survived three years of residency with my spouse, and we are heading into another four years of residency this summer as he retrains into another specialty. Here are my top five tips for spouse survival during medical residency.
Survival tip #1 – Prepare Your Marriage
Residency is hard on a marriage, but it is survivable! In order for your marriage to survive (or maybe even thrive!) during residency, you need to prepare appropriately. This includes:
Improving your communication

Communication during residency is made especially difficult due to the weird, long hours your spouse will likely work. Now is a good time to hone your communication skills, assess your communication strengths and weaknesses, and determine with your spouse how you will discuss important things when he or she is exhausted from work.

Identifying marital issues

Any issues or difficulties you have in your marriage now will be amplified during residency by stress and exhaustion. Take some time to have a heartfelt conversation with your spouse about what you feel is working well in your marriage and what you feel could be improved. Make a concrete plan for how you will make strides towards a stronger marriage before July 1.

Do a soul search

You and your spouse should both look inward for a better understanding of how you function when you are stressed and tired. There is a good chance this will be your operating state for much of residency. How will you identify that you are acting from a place of stress and exhaustion instead of love for your spouse? What will you do when that occurs to protect your marriage from hasty harsh words or actions?
Survival tip #2 – Manage Expectations
Anyone who has talked to me about the medical journey knows that managing expectations is the hill I will die on. Please note I said managing expectations, not eliminating expectations. As tempting as it is to let your spouse completely off the hook during residency (I mean, come on – they're overworked, underpaid, and exhausted), it's not a good idea for them, you, or your marriage. As you support your spouse through residency, remember that good expectations are:
Well-communicated

If you don't communicate your expectations to your spouse, you are grading them on an assignment for which they do not have a rubric. They can't read your mind!

Tell your spouse ahead of time what your expectations for a given activity are. Do you expect them to take out the trash? Do you expect them to get up on Sunday morning and eat breakfast with the family instead of sleeping in?

Reasonable

When setting expectations, you must take into account your spouse's workload.

If your spouse is on an inpatient rotation working six 14-hour days a week, you can't expect them to be home for dinner. That's not reasonable or fair, and it will make them feel like a failure and you will feel disappointed.

Flexible

Residency is a world of changing schedules and last-minute work responsibilities.

Consider setting flexible expectations that are designed to respond to changes in work schedules. For instance: If you are home in time for dinner, you will do the dishes when we are done eating. This communicates a reasonable expectation that accounts for the different schedules of various rotations.

Prepare to adjust your expectations as residency progresses. Each rotation is different, and some residencies have drastic changes in schedule and workload from year to year. The expectations you set before residency may not hold three months down the line, and expectations that were reasonable in intern year may not work in PGY3.
Survival tip #3 – Understand Your Finances
There is a good chance you will be responsible for most or all of the household decisions during residency due to your spouse's erratic schedule and mental fatigue. This means you need to be well-acquainted with all of your financial information, including:
Your financial plan

Budget

For most couples, the residency budget is tight. Your spending plan should be made together and should be attainable for both of you. Before you make your budget, visit local grocery stores and take note of the cost of living. Most physicians move for residency, so your medical school budget may not be applicable in your new location. Our food budget doubled from medical school to residency because we moved to a high cost of living area.

Discuss any areas you can cut back. Don't make unilateral financial decisions that affect your spouse without talking to him or her first.

Consider using a budget tracker app you can both access to view your monthly spending. This can help bridge the financial communication gap during residency and can keep you from having to remind your spouse of budgetary constraints.

Investing

For most residents, investing seems out of reach due to budgetary constraints. That's okay – you can catch up later.

If you are able to set aside money to save or invest during residency, ensure you have a set investment plan to make your money work for you. Having this plan in place will eliminate the mental burden of deciding what to do with any extra money you may happen to have.

Loans

How will you handle medical school loans during residency? Will you pay the minimums, or do you need to request forbearance? Should you refinance to get a lower interest rate? I recommend doing significant research on student loan options before making a decision. Over the past few years, physician finance experts have written a lot on the topic of student loans. Make sure you are looking at physician-specific information, not just general student loan repayment plans.

Financial institution access

How do you log in to your accounts? Is your name on the account, or does your spouse have to be present for any financial conversations? This is something to consider. My name was not on our last mortgage, so I was unable to complete any mortgage-related tasks on my own. This can be difficult when your spouse is never available during business hours. If this is the case, have a plan in place, such as a power of attorney (which will help in-person but not over the phone) or for your spouse to call the bank on his or her coffee run.
Survival tip #4 – Find Your Community
Residency can be a lonely journey for the physician spouse. You will likely move to a new location where you may know no one. Finding your community quickly will set you up for personal success during residency.
Religious institutions

Attending religious services is a great way to meet people who share your ideals and values. However, large-scale services are less likely to yield true friendships, so I recommend joining a Bible study, volunteering on a ministry team, or just inviting some other members over to your house for lunch or a movie night.

Parent groups or kids' activities

If you have kids, you can piggyback on their friendships. Kids tend to be better at making friends than adults because they don't have the same fears and are more willing to walk up to a peer and say, "Do you want to be my friend?"

Volunteering at your child's school, talking with the other parents at soccer practice, and joining a local playgroup are all great ways to meet other people in your stage of life.

Hobby circles

If you participate in a communal hobby, find that hobby group at your residency location. Book clubs, knitting circles, hiking groups, and adult sports leagues are just a few ideas for interest groups to join. You may find you have more in common with group members than just your shared hobby.

Coworkers

If you work during residency, you may find a ready-made group of friends at your job. You likely have a few things in common – you did choose the same career, after all. As much as possible, attend work functions, go to lunch with your team, and invest in getting to know your coworkers.

Other residents' spouses

Possibly the best place to find community is with spouses of other residents. They are the only people in the world who can really relate to what you are experiencing right now! If you are lucky enough to match to a program with other married residents, make the effort to reach out to their spouses and begin to form connections. Plan an event for spouses at the beginning of residency. If possible, look at housing in areas of town where other resident families also reside. I was so fortunate that another resident family with children moved into our building the second year of residency. My new friend and I spent many days walking around Target and commiserating about our spouses' jobs.
Survival tip #5 – Invest in Yourself
Your spouse will spend the next few years investing heavily in themselves and their careers. The fact that the brunt of the household management burden will fall on you at this time doesn't mean you can't also invest in yourself. I have seen many medical spouses lose themselves in their spouse's career and wake up years later wishing they had done things differently. Investing in yourself can look like:
Furthering your career

This is a great option for couples without children, but it's feasible for anyone provided you can find reliable childcare. Work towards that certification you always wanted, volunteer for the lead on this project, or go back to school. Just be careful not to dive so deeply into your work that you and your spouse are both too busy for your marriage.

Developing hobbies

Watching TV on the couch by yourself while your spouse is at work can get old. Residency is a great time to try all the hobbies you never had time for before. Many communities have hobby interest groups where you can meet like-minded people and learn about your new pursuit. If you don't have any ideas for new activities, check out your local library or community college for free classes!
Finally, don't forget to rest when you need it. Residency is exhausting for the physician and their spouse. Balancing the household workload, your spouse's ever-changing schedule, a career, kids, and expectations of extended family can get overwhelming. Investing in yourself includes carving out time to do what feels restful to you, whether it be taking a nap, going for a walk, treating yourself to a shopping spree (at the thrift store for your budget!), or soaking in the bathtub. If you have kids and can't afford a babysitter during residency, it's okay to let them watch a movie while you decompress.
I promise.
---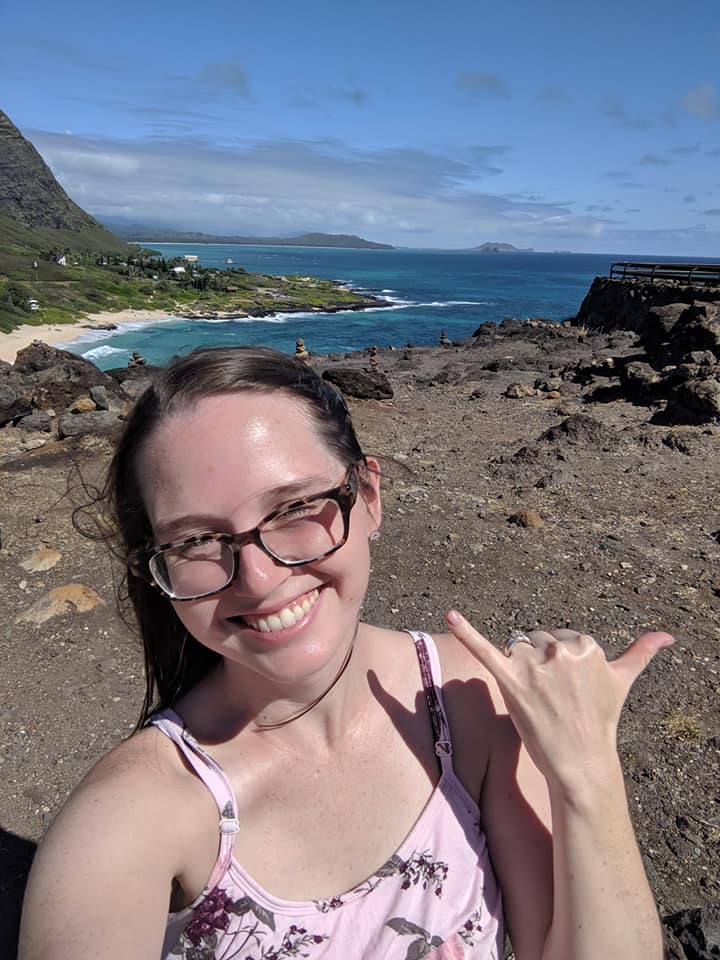 Hannah Pye is the wife of an Army physician and the mother to two energetic little girls. They lived in Hawaii for the three years of residency and now, after a few years of attending life, are headed to yet another residency. She is so passionate about building and maintaining strong and healthy medical marriages that she literally wrote the course on it! If you want to strengthen your medical marriage, you can sign up for the Residency-Proof Your Marriage course here: Residency-Proof Your Marriage | The Scope of Practice Academy (teachable.com)